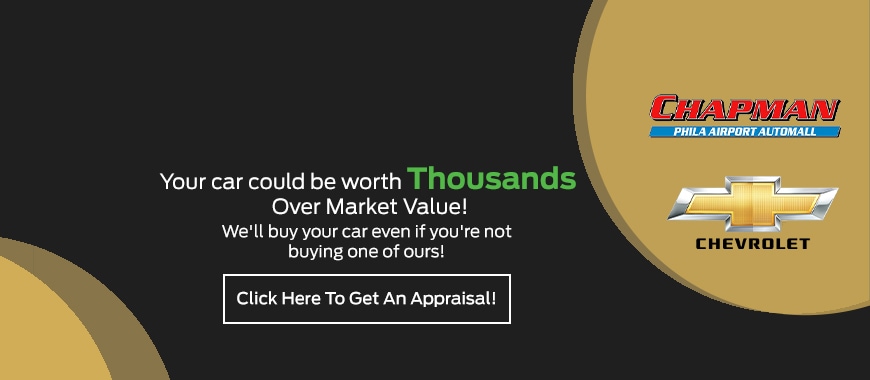 Want to trade? Chapman Chevrolet in Philadelphia, PA is prepared to offer you serious cash for your used vehicle! At our dealer, we're always interested in building inventory in order to better serve the Greater Philadelphia Area. We won't mess around when it comes to a fair deal! Read all about it right here!
Here's How It Works!
Trading in or selling your old ride has never been easier than it is at Chapman Chevy. We'll start by performing a routine physical inspection on your trade. Afterward, we'll provide you with true and accurate market data that gauges the both the local and national value of your pre-owned car.
To seal the deal, we'll offer you a cashable check the very same day, or provide you with a discount value towards a new ride of your choice. Still making payments? No worries! We'll take care of the details.
We'll Pay You Top Dollar!
What's the best part about trading in your vehicle with Chapman Chevrolet? How about the fact that we will always offer you top-dollar! That's right, Chapman Chevy in Philadelphia, PA is prepared to offer you up to $250 MORE THAN MARKET VALUE for your old car, truck, or SUV!
That's more than you'll get from the other guys or from online vehicle purchasing platforms. Plus, you'll get excellent customer service every step of the way.
We Can Even Save You Money!
Did you know that you could save money simply by trading in your used car with Chapman Chevrolet? It's true!
When you trade with us, you may be eligible to pay less in sales tax than you would just by selling your car on the private market. Exactly how much you save depends on your state's sales tax rate and the value of your trade-in, but saving thousands in taxes is not at all out of the question!
At Chapman Chevrolet in Philadelphia, PA, we are always putting the interests and needs of our customers first. When you're ready to get an incredible deal on your trade with a dealership that won't play any games, look no further than us. Contact Chapman Chevy online, by phone, or in person today to learn more!
Custom Vehicle Landing Page by

BitMoto